A popular saying in the world of personal finance advises you not to be insurance-poor. The cost of insurance premiums can add up, but having insurance versus not having it can be the difference between a few bills that make you cringe and an outright financial disaster.  Meanwhile, another popular piece of personal finance wisdom is that you should cut expenses where you can. How many times have you heard that you should bring your lunch to work instead of buying lunch? Or, that you should buy a gently used car instead of a new one?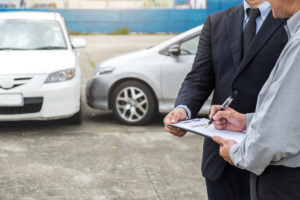 Insurance is not one of the expenses you can cut out of your budget. It's not just the obvious kinds of insurance that can stave off a financial catastrophe. You need more than just health insurance and the minimum liability coverage of car insurance that Arizona requires. When you rent a car, you should also buy the additional car insurance offered by the car rental company. Even if you already have insurance for the car that you own, it is still a good idea. It could make all the difference if you get into a car accident while you are driving the rental car.
Why You Should Buy Insurance from Rental Car Agencies
Here are some reasons why buying car insurance from the rental company when you rent a car makes good financial sense.
Deductible: It's legal to drive a rental car if you have liability insurance from your home state. However, you don't buy insurance from your rental company. The trouble is that if you get in an accident, you will have to pay your insurance company's deductible. Usually, the deductible is much more expensive than if you had bought the rental company's insurance.
Loss of Use: If you are in an accident in a rental car, but you do not have the rental company's insurance. In this case, you will need to pay for "loss of use." Meaning you must compensate the rental company for the time the car is being repaired instead of being rented out. This is also more expensive than just paying for the insurance.
Avoid Increases to Your Own Insurance Premiums: Every time you get in a car accident, your insurance rates go up. By having insurance through the rental company, you can usually prevent the accident from affecting your own insurance rate. It is a matter of "what happens in the rental car stays in the rental car."
Contact Eric Schmidt About Personal Injury Cases
Eric Schmidt is a personal injury lawyer licensed to represent clients in Arizona and California. He can help with many legal issues relating to injuries resulting from car accidents, even accidents involving a rental car. You should always consult a personal injury lawyer before signing a settlement offer from a car insurance company. Contact Eric Schmidt in Phoenix, Arizona to see if you have grounds for a personal injury lawsuit.
https://ifyoubeenhit.com/wp-content/uploads/2021/02/bigstock-Insurance-Agent-Examine-Damage-230412211.jpg
600
900
damg
https://ifyoubeenhit.com/wp-content/uploads/2021/02/logo.png
damg
2018-07-11 07:00:10
2021-04-16 14:46:53
Should I Buy the Insurance from Rental Car Agencies?